Luxury and Utility Combine Perfectly in the New 2023 Volvo XC90 Recharge
The new 2023 Volvo XC90 Recharge is an SUV that puts performance and comfort above all else. The XC90 is a plug-in hybrid that is notably efficient on the roads and uses the power it can generate from a duo of engines.
Buyers near Hoffman Estates are impressed by its proud stature, smooth ride, and seating capacity for up to seven passengers. A sleek and sophisticated exterior design puts the 2023 Volvo XC90 Recharge's looks on display, while a composed ride and comfortable interior are sure to satisfy all riders.
Safety Features
Adorned with a combination of enhanced stability, airbag protection, and brake control, the safety elements within the 2023 Volvo XC90 Recharge are state-of-the-art and cohesive. Active safety features also complement the 2023 Volvo XC90 Recharge, such as BLIS, which provides support when changing lanes.
Intelligent safety assistance technology to keep you in your lane, alert you when the center line is crossed, and detect and avoid collisions with other vehicles, pedestrians, and bikes also offers advantages in the 2023 Volvo XC90 Recharge.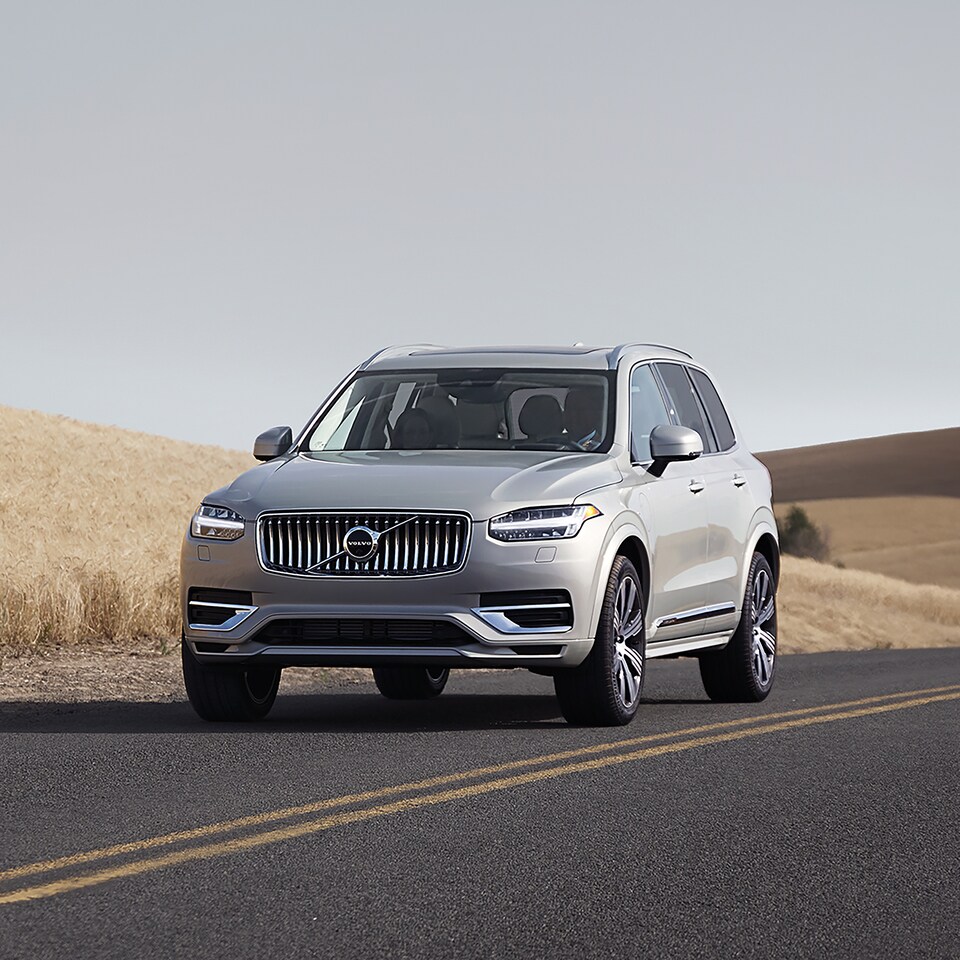 Performance Points
As a plug-in hybrid, the 2023 Volvo XC90 Recharge has plenty to prove to potential buyers at McGrath Volvo Cars Barrington. The XC90 shows off well, though, with stats that feature 32 mpg in Pure Mode, 455-hp generation, 58 MPGe, and acceleration from 0-60 mph in just five seconds.
The 2023 Volvo XC90 Recharge boasts one-pedal driving and standard all-wheel drive for driving in all weather conditions and road types. The Volvo XC90 is powered by a 2.0-liter motor with an electric motor that sends power to the rear wheels.
Complimented by Polestar Engineered Optimization Software, the 2023 Volvo XC90 Recharge offers enhanced performance for all who dare to drive it around Palatine, IL.
Design and Interior
Inside the 2023 Volvo XC90 Recharge cabin, you'll find design features that are quite exclusive and alluring to buyers in Algonquin, IL. To be responsible, the 2023 Volvo XC90 Recharge provides a leather-free interior option that uses a tailored wool blend for upholstery efforts that creates a natural look and feel. Seating for up to seven passengers is also included in the 2023 Volvo XC90 Recharge.
However, despite its upgraded passenger space's practicality, the 2023 Volvo XC90 Recharge cabin is still upscale. A handcrafted crystal gear shifter is the main focal point. At the same time, a panoramic sunroof that allows light to enter the cabin provides plenty of natural light within.
Technology Attributes
Modern tech amenities in the 2023 Volvo XC90 Recharge steal the show for this sophisticated SUV near Elgin, IL. In the 2023 Volvo XC90 Recharge, you'll find better air quality than is available in rival SUVs, thanks to an advanced in-cabin air purifier.
An advanced Head-Up Display is also available, which projects speed and navigation readings right onto your windshield in the driver's field of vision. An available Digital Services Package is also an amenity many 2023 Volvo XC90 Recharge owners in Barrington, IL, choose. This package includes built-in Google with Google Assistant, Google Maps, and Google Play, along with Volvo Cars app integration with remote services.
Trim Level Options
A trio of trim selections is available for the 2023 Volvo XC90 Recharge. With each one building upon the amenities of the last, we kick things off with the Core trim. It includes features like a standard 8-speed Geartronic automatic transmission, linear walnut decor accents, and a tailored steering wheel in a charcoal color.
The Plus trim features all of the Core attributes but adds in headlamp cleaners, heated seats in the rear, and an integrated booster cushion for little ones. The top Ultimate trim further adds signature Gray Ash decor, Nappa leather upholstery, and front seat ventilation.
Test Drive a 2023 Volvo XC90 Recharge
To prove the 2023 Volvo XC90 Recharge is a good fit for you, we invite you to test drive one around Barrington, IL. Come to McGrath Volvo Cars Barrington to see how it looks in person, get behind the wheel, and experience how it feels on the road.
Make an Inquiry
* Indicates a required field