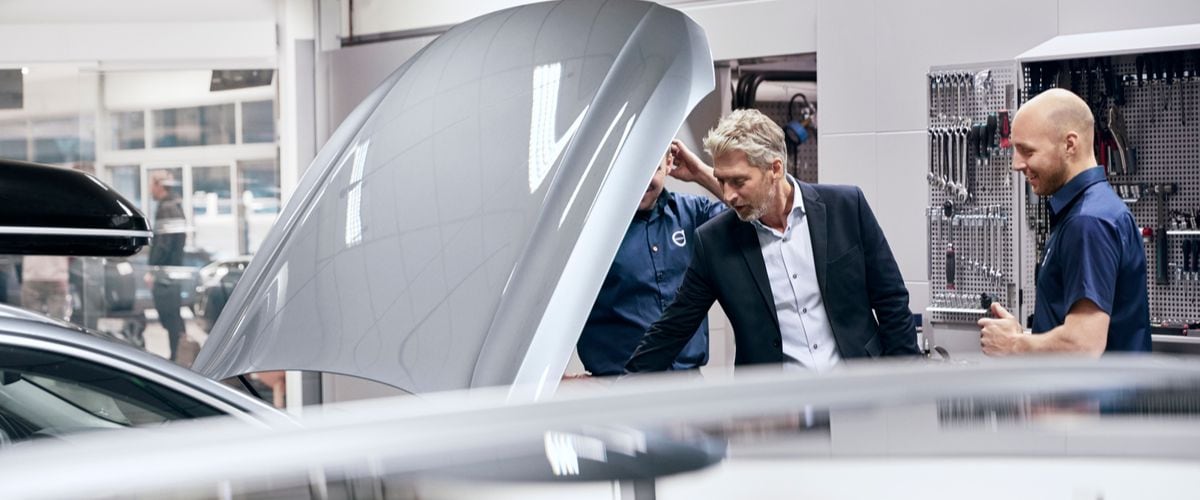 McGrath Volvo Cars Barrington Service Center
Discover Expert Auto Service and Schedule a Service Today
The Volvo services and repairs offered at McGrath Volvo Barrington, IL - near Wheaton, Rockford, & Waukegan, will keep your car running smoothly for years to come. No one knows your Volvo like the factory-trained technicians at our service center. Whether it's something simple like an oil change or alignment, or a more extensive repair like brakes or a new set of tires, you can trust that the experienced service staff at McGrath Volvo have the knowledge and expertise to get you back on the road with peace of mind. 
We understand that bringing your ride in for repairs can be a hassle, and having to be without your car for an extended period of time can conflict with your busy schedule. That's why we've provided the Volvo Valet service. We'll send a team member to pick up and return your car for servicing, and we'll even issue you a rental, so you don't have to put your life on pause. Plus, the Service by Volvo Promise includes Lifetime Parts and Labor, Complementary Diagnostics, Car Wash and Alternative Transportation, Tow for Life, and more - meaning we've got your back. You can use our convenient online scheduling form or give us a call today to plan your service appointment. 
The Service by Volvo promise is: 
Lifetime Parts and

 

Labor (on out of warranty, retailer installed parts)

Complimentary Diagnostics

Car Wash and Alternative Transportation

Tow for Life
Why Choose Our Service Center?
Regular service is the only way to keep your vehicle in the best possible condition, and at our location near Palatine, IL, we offer our customers speedy and attentive service. When you come to our service center, you will find a state-of-the-art facility, advanced equipment and diagnostic tools, and a team of highly skilled technicians. All these elements contribute to fast and precise service.
While our service team is familiar with a wide variety of brands and models, Volvo models are their specialty. If you own a Volvo, you don't want to bring in for service just anywhere. Our factory-trained technicians know the intricacies of both the most recent Volvo models and models from the past. Their knowledge helps to ensure a high degree of quality while also reducing wait times.
If you're looking for routine maintenance for your vehicle, then you will find that we offer all the basic auto services that you look for. Some of the basic maintenance that we offer at our service center includes:
Oil Change
Front-End Alignment
Air Conditioner Repair
Adjust Brakes
Cabin Air Filter Replacement
These are just some of the services that we offer, and if you're looking for something that you don't see listed, just mention it in the comments and we will do our best to accommodate you.

Fill Out Our Online Service Application
Take a minute to fill out our online service application to schedule a service appointment without the need to get on the phone. After you submit an appointment request, a member of our service team will be in contact with you shortly after. We look forward to hearing from you!
Schedule Service
* Indicates a required field
Visit Our Volvo Service Center in Barrington, IL
Drivers in the Elgin, IL, area looking for a reliable service center where they can bring their Volvo vehicle for automotive maintenance are welcome to visit us at McGrath Volvo Cars Barrington. Our service department's certified technicians know how to work on Volvo vehicles and can provide professional and efficient automotive care.
What We Offer at Our Service Center
We understand that finding a service center you trust with your Volvo vehicle can be challenging. So when you come here to McGrath Volvo Cars Barrington, you can feel at ease. We have a state-of-the-art facility here, and we use OEM parts for our replacement services.
Different auto services we offer include oil changes, state inspections, wheel alignments, and a transmission flush, just to name a few. You can also come to us for a wash, wax, and clean, and you can always chat with your team about diagnostic and repair services.
Frequently Asked Auto Care Questions
How Often Should I Bring in My Vehicle for an Oil Change?
If you're wondering how often your vehicle needs an oil change, there are several essential things you can do to know how often your vehicle needs this service. Firstly, your car manual is an excellent resource for this kind of information and our team here at our Volvo service center. But, if you want a specific number to remember, you can come to our service center for an oil change every 7,500 to 10,000 miles.
Does My Vehicle Need Brake Service?
Brakes are an essential component of your Volvo vehicle, so to stay safe on the road, you want to ensure you're keeping up with brake services. One basic way to see if your SUV or sedan needs brake service is if your brake warning light switches on.
You may also notice that it takes a little longer for your vehicle to stop when you apply the brakes, and you may also hear a grinding or squealing sound every time you brake.
How Do I Know If My Battery Need Changing?
A few signs to watch out for may indicate that you need to change the battery in your vehicle. If you notice a significant amount of corrosion around the battery in your car, this can indicate that it needs to be replaced. This can also be a sign that the battery is old. Car batteries should be replaced every three to five years.
You may also notice a change in the electrical components of your vehicle. Your headlights and lights on the dashboard may be dim, and your windows may take a while to roll down. So if you notice these issues while driving around Algonquin, IL, feel free to set up an appointment with our service center so our team can take a quick look.
Why Is It Important to Rotate My Tires?
If you want to keep your tires on the roads around Palatine, IL, for a while, tire rotations are an important service. Tire rotations help ensure even wear on your tires so that they last you longer, and you don't need to buy a new set as often.
Schedule an Appointment With Our Service Department Today
If you're ready to bring your sedan or SUV to our service center, then we encourage you to set up an appointment using our online form. Our team is also always available to chat with you about automotive service if you have questions, so feel free to call us.
We look forward to helping you at our Volvo service center near Hoffman Estates, so make an appointment today!
Your privacy is important to us.
McGrath Volvo Cars Barrington takes your privacy seriously and does not rent or sell your personal information to third parties without your consent. Read our privacy policy.
Hours
Monday

7:00 am to 5:00 pm

Tuesday

7:00 am to 5:00 pm

Wednesday

7:00 am to 5:00 pm

Thursday

7:00 am to 5:00 pm

Friday

7:00 am to 5:00 pm

Saturday

7:00 am to 5:00 pm